The extremely perplexing disappearance of housewife, Joan Risch, very closely parallels the New York Time's Best Seller, Gone Girl, written by Gillian Flynn. The outstanding book (which was later adapted into a movie) follows the disappearance of a young wife.
Joan Risch had a tragic childhood with both of her parents perishing in a fire while Joan was out visiting family. Following their death, she lived with a foster family. A Boston Herald article from 1993 reported that Joan had been sexually molested by her foster father. In 1954, Joan met her future husband, Martin, at a Harvard football game. They were both Brooklyn born and hit it off immediately. Joan ultimately left her career as an editorial assistant at a publishing company in New York City to settle down with Martin and start a family. The young couple had two children – Lillian and David – before moving to a modern home on Old Bedford Road in Lincoln, Massachusetts. Joan was a housewife while Martin was a Fitchburgh paper company executive.
"I think they were extremely happy. They had a beautiful home, two lovely children and they were congenial companions, as far as I know," said Joan's foster mother, Alice Nattrass, who had long divorced her ex-husband and the man who was said to have molested Joan.
On 24 October, 1961, Martin went on a business trip to New York, leaving his wife at home with their children. The morning was an uneventful one. Joan took 4-year-old Lillian to the dentist before returning home for lunch. Joan was such a generous woman that not only did she pay for dental care for her own family but she continued to pay for her foster sister's dental care. She often worried about Alice's financial situation after leaving her ex-husband.
When they came back home from the dentist, she put 2-year-old David, down for a nap. As David was napping, Joan sent Lillian over to the Baker's house to play with their son, Douglas, who was the same age as Lillian. The homes on Old Bedford road were spaced far apart and were fenced off with large trees, giving the resident's privacy.
What took place next is shrouded in mystery and conspiracy.
At approximately 4:15PM that afternoon, Lillian arrived back home. Moments later, she ran back to the Baker residence. When Douglas' mother, Barbara, opened the front door, Lillian wailed that her mother had disappeared and that there was "red paint all over the kitchen." Barbara accompanied Lillian back home and was met by a particularly shocking scene.
What Lillian had seen was not red paint but blood.
The walls were spattered with spots of blood and there was a small puddle of blood on the floor. The blood led to David's nursery, where the toddler remained untouched. It then led out to the car and the trunk of the car. Investigators noted that it appeared as though some of the blood had been wiped up.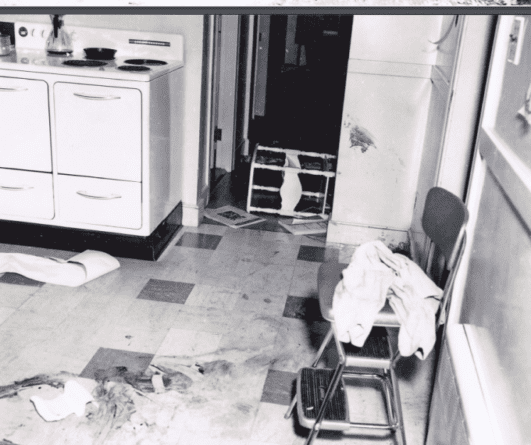 The phone had ripped from the wall and tossed into a wastebasket while a phone book sat nearby; it was opened on the page of emergency numbers although phone records showed that no calls had been made. Investigators believed that the blood had most likely come from a superficial wound. On the wall beside the phone, investigators found an unidentified bloody thumbprint. Over the forthcoming years, over 5,000 people would be fingerprinted in an attempt to find a match but to no avail.
Nothing appeared to be out of place and nothing had been stolen, ruling out robbery. In fact, other than the spots of blood in several locations and a tipped over table, the house was practically spotless. It certainly didn't look like a violent struggle had ensued.
The initial theory from investigators was that Joan had been abducted. However, eyewitness statements complicated this theory.
Barbara Baker told police she had noticed Joan walking or running, with her arms outstretched towards her car which was parked in the driveway at around 2:15PM.1 She appeared to be carrying something red in one hand. From there, she turned back and walked towards her house. Another neighbour told police that at approximately 3:20PM, she saw a grey Oldsmobile Sedan parked behind Joan's own car.
As news of Joan's disappearance wended through the town of Lincoln, police started to receive tips from those who believed they had seen her that fateful afternoon.
Several motorists reported seeing a woman who they believed to be Joan. She had been walking along Route 128 in Waltham. Situated nearby was the Cambridge Reservoir. Investigators placed much credence on these reports and had the water searched scrupulously in the hopes that it would turn up some clues. It was an unfruitful search.2
Another reported sighting was at about 2:15PM on the afternoon Joan disappeared. A caller described seeing a woman who looked like Joan walking along the side of Route 2A, approximately 200 yards from her home. She was wearing a loose fitting grey coat that came down to her knees and had a handkerchief tied under her chin in a peculiar fashion. Was she trying to hide her face? She was "shuffling along and hunched over as though she were cold."
Shortly after this sighing came another. This caller said they too saw somebody who matched the aforementioned description, although this caller said that the woman had blood on both of her legs. She was walking on Route 128 and appeared to be dazed. The caller recollected that she was walking "in a plodding manner with her head down."
Could this have been Joan and if so, what was she doing? In all of these reported sightings, the witnesses described her as wearing the same clothing and acting in the same obscure manner. After these reported sightings, investigators searched extensively for this woman, making sure they checked each and every hospital. They were never able to confirm or deny if this were Joan.
The case took an even more mysterious twist when instigators discovered that Joan had check out numerous library books in the run up to her disappearance; all of these books were about murders and disappearances. "The Hunt for Richard Thorpe" was one of the books. It is about a schoolboy who disappeared on purpose. Another was "Death of The Heart," a novel about an orphan who dropped from sight. The book which almost paralleled the so-called crime scene at the Risch household, however, was "Into Thin Air" which follows the story of a woman who planted her own blood stains in her home before disappearing.3
These discoveries sent the rumour mill running wild.
Many people theorise that Joan, bored with her marital life after abandoning her publishing career in New York City, staged her own disappearance. The other theory is much less romanticised: Joan was the victim of a sadistic murder and her body is abandoned somewhere unfound. Her son, David, likes "to think she's in heaven."4 Friends and family say that she was a devoted mother and wife and wouldn't dream of abandoning them.
Over the years, Martin still held onto hope that one day his wife would return home; he came to believe she had potentially suffered amnesia and would one day remember who she was. He remained in the same marital home following her disappearance and kept it the same as it was before she disappeared. Despite the numerous crank calls he received, he refused to change his telephone number just in case Joan called. She never did call and she never did return home; he refused to declare her dead. Martin Risch went to his grave in 2009, never knowing what happened to his wife.
So what became of Joan? Could she have abandoned the life she made to start afresh? That's the theory that the adventurer in all of of us likes to believe. Is it plausible? Very much so. It's certainly more alluring than the glaring alternative theory: that she is dead. The bizarre vanishing became the center of one of New England's greatest mysteries of the 20th Century and to this date, nobody truly knows what happened to Joan Risch.
---
If you have any information about the disappearance of Joan Risch, please call: 781-259-8113.
---
Footnotes: