Sheboygan Falls is an idyllic city in Sheboygan County, Wisconsin. Before 2012, the last murder was in 1996 and there are only one or two first-degree homicides in all of Sheboygan County per year on average. It isn't a large metropolitan area where crime is rife but a densely populated area where crime is almost non-existent. Fleeing the bright lights of Wisconsin, many families set up home here because of how safe it is considered as well as how picturesque it is. Quaint shops and restaurants line the streets in the commercial area while lush trees are dotted along the meandering roads in the residential area.
In 2012, however, Sheboygan Falls was shocked by the brutal murder of 78-year-old great grandmother, Barbara Olson, who was hacked and bludgeoned to death with a hatchet and hammer.
Even more shocking was the revelation of who the murder was perpetrated by – Barbara's very own 13-year-old great grandson and his best friend. It was a crime that shocked the nation. If you're not safe in your own home with your own great-grandson then where are you safe?
"Did these kids grow up here? Did they grow up here in Sheboygan?" asked Sheboygan County District, Joe DeCecco, when he was informed of the heinous murder. Antonio Barbeau and Nathan Paape looked like your average all-American boys from Sheboygan Falls, so what led them to kill Antonio's great grandmother with such savagery?  1
On that fateful afternoon of September 17th, 2012, Nathan's oblivious mother drove the two boys down the tree-lined street of Westwynde Bluffs. As they approached the house with the welcome sign affixed to a plant in the front garden, they said goodbye to Nathan's mother. When she was out of sight, they snuck into Barbara's garage.
They had intended on sneaking up on Barbara through the door which led from the garage to the kitchen. However, Barbara heard the teenage boys and invited them into the house, adding that she would call Antonio's mother to let her know that Antonio was with her.
When Barbara turned her back on Antonio and Nathan, she was brutally attacked by the duo, which had brought along their weapons of choice: a hatchet and hammer.  They cracked her across the head with the blunt edge of the hatchet. She fell to the floor and "tried to cover her head, groaning and telling them to stop." Following the heinous attack, the two boys attempted to drag her blood-soaked body to the car which was parked in the garage. Realising that this wasn't an easy feat, they decided to just ditch Barbara's body in the garage, with a trail of blood leading from inside the home.
A mere $155 was all they were able to steal from Barbara, as well as several pieces of jewellery. After they stuffed the pitiful bounty into their pockets, they grabbed Barbara's car keys and dumped her unlocked car at a nearby Sheboygan bowling alley. Inside the car, they abandoned the few pieces of jewellery that they had ransacked from the home in the hopes that somebody would steal the unlocked vehicle and then be implicated in her murder.
So what would two teenagers do with a pitiful $155, stolen from the elderly lady they just slaughtered? They bought marijuana and pizza.
It wouldn't be until two days later that Barbara's body was found. Her daughter, Judy Offutt, drove over to her home when she hadn't heard from her. She peeked into the garage and noticed that Barbara's car wasn't there. Before turning away, she glanced towards the garage door and spotted her lying on the floor, surrounded by blood. She initially believed that her mother must have had an accident but this was no accident, as she was soon to find out.
Within 12 hours, Nathan and Antonio would be apprehended for her murder after bloody clothes and shoes were discovered in Antonio's locker. An investigation of Nathan's home unearthed more bloody clothes as well as Barbara's gold watch and in a nearby storm drain, they discovered her purse.
It was announced that the two teenagers would be being charged as adults with first-degree murder. In January of 2013, Antonio entered a plea of not guilty by mental disease or defect. Two weeks later, Nathan also entered a plea of not guilty.
Antonio's attorney had attempted to have his trial moved because of the pre-trial publicity but they were unsuccessful. As the trial date loomed, Antonio changed his plea to no contest as part of a deal with the state which would see him eligible for parole in 35 years. He was convicted of first-degree intentional homicide. 2
Now it would only be Nathan facing a court of law. By June of 2013, jury selection was complete – 11 men and three women were selected. It would be one of the most shameful trials the entire state of Wisconsin had ever seen.
During the opening statements, which commenced on Monday the 17th of June, 2013, Nathan's defence attorney, Chris Petros, told the jurors that on that warm September afternoon, Nathan had come home from school as usual. Shortly after he dropped his schoolbag on the floor, his good friend, Antonio, showed up at his door. As the teenagers sat in Nathan's bedroom, Antonio produced a hatchet from his bag.
According to Nathan's defence attorney, Antonio then concocted the grim plan to kill his own great grandmother.3
Nathan was nothing more than a bystander, they argued. Antionio, however, had a different version of events when it was his turn on the witness stand. While he admitted that he had attacked Barbara with the hatchet, he contended that Nathan wasn't as innocent in the ordeal as his defence attorney was claiming. Nathan came to Barbara's home armed with a hammer and with that weapon, he bludgeoned Barbara. He also testified that Nathan was just as compliant in the planning of the murder.
When Nathan took to the witness stand, he confessed that he did hit Barbara with the hammer, adding that he only hit her twice and only did so because he was afraid that Antonio would turn on him. He also described how Antonio had a "blank, no emotions" look on his face as he repeatedly bludgeoned his Barbara.
At one point during the murder, Antonio took off his sweatshirt so that it wouldn't get in the way of "him swinging," Nathan told the aghast court room. 4
Fond du Lac County Medical Examiner, Doug Kelley, testified that Barbara had been struck at least 27 times with both sharp and blunt objects. This was the evidence that Nathan, armed with a hammer, certainly had participated in the murder. The entire court room fell dead silent as the gruesome photos of Barbara's body flashed on screen. Deep wounds to her head, face, arms and hands were enough to make even the most hardened law officials look away. The wounds on her arms and hands were indicative of defensive wounds, meaning that the elderly great grandmother had attempted to defend herself against the blows.
She wasn' t knocked unconscious by the initial blow meaning she knew very well that it was her own flesh and blood ending her life.
Throughout the trial, Antonio's defence attorney had argued that in 2009, Antonio had been involved in a car accident which left him with an "unspecified cognitive disorder," which most likely played a role in his decision to commit crime. However, this alone certainly wasn't enough to ignore the brutal nature of the murder and certainly doesn't justify the actions. District attorney, Joe DeCecco agreed that "this type of crime cannot go unanswered and be explained away by brain trauma." 5
Antionio's grandmother – the daughter of his victim – offered a plea in mitigation. She contended that her mother would want Antonio to not receive a strict punishment so that he could have a chance to be a better person. While Antonio's attorneys and family were attempting to excuse his actions with brain trauma, Nathan's attorneys and family had argued that Nathan should not have been held accountable because he was allegedly developmentally challenged. His great aunt told Fox 6 that Nathan believed he would be coming home after admitting to the murder, indicating he didn't grasp the severity of what he had done or considered the consequences.
However, Judge Timothy Van Akkeren disagreed with both defences, arguing that the crime as the worst he had encountered in his 24 years on the bench. "I've not seen anything of this nature, not even close," he said. As the trial was coming to a close, the  two teenagers shed tears and asked for forgiveness but these crocodile tears didn't sway the jury. After just mere hours of deliberation, they found Nathan guilty of being party to first-degree intentional murder and sentenced him to life imprisonment with a minimum of 31 years. Antonio Barbeau had already been convicted of first-degree intentional homicide and sentenced to life imprisonment with a minimum of 35 years.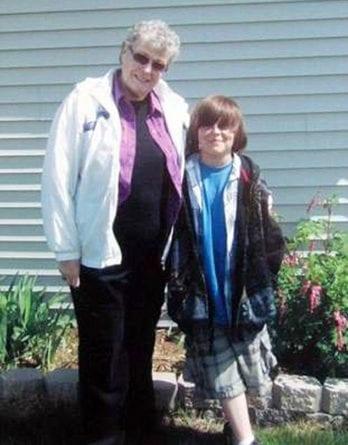 When Nathan and Antonio are 49-years-old, they will both have a chance of parole. Both murders will get a second chance at life – something they denied Barbara Olson as she begged the young boy that she helped raise from birth, for her life.
Footnotes: