It was the afternoon of the 6th of September, 2006, when 14-year-old Elizabeth Shoaf from Leaning Tree Road in Lugoff, South Carolina, was walking home after departing her school bus. It was approximately 4:30PM. As she was strolling along, she was approached by a man wearing combat fatigues. It was Vinson Filyaw, an unemployed sex offender who police had been attempting to track down for months after he molested a 12-year-old. Filyaw gained Elizabeth's trust by claiming to be a police officer. 1
After placing handcuffs on the teenager, Filyaw then led Elizabeth deep into the woods for approximately one hour to disorientate her. He eventually led her to an underground bunker which he had dug 15 feet into the ground beside his trailer. It was 4 feet wide and 20 feet long. 2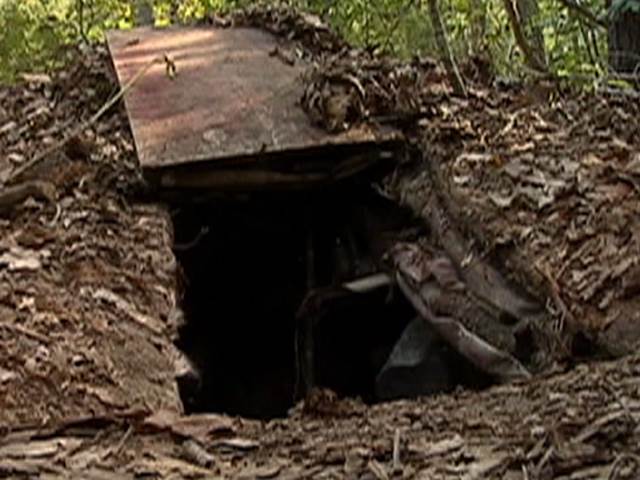 Inside was a hand dug privy, a makeshift bed, and shelves fashioned from branches. There were also two homemade grenades and a flare gun. It was approximately one mile from Elizabeth's own home.
Once underground, Filyaw stripped the now-terrified girl naked, restrained her with chains and raped her. This was Elizabeth's routine for 10 days straight. He raped her between two and five times a day. In addition, Filyaw placed explosives around Elizabeth's neck and warned her it would explode if she attempted to escape. There was a water supply from a nearby stagnant pond, he told Elizabeth. He intended on keeping her there for months if not years.
When Elizabeth didn't return home from school, her parents reported her missing. Despite the fact that they were adamant that something sinister had happened, police assumed that she was just a runaway. It certainly wasn't in her character to run away from home, they asserted. Nevertheless, police refused to issue an Amber Alert and listed her as a runaway.
Over the course of the next day 10 days, Elizabeth worked on gaining her captor's trust. She attempted to relate to him by speaking about things that interested him and making out that they interested her too. She tried to make him believe that she was enjoying her predicament and his company. Eventually, he started to let Elizabeth go outside for fresh air; using her wit, she left strands of hair on beaches hoping somebody would find them and put two and two together.
On the 10th day, Elizabeth asked Filyaw if she could use his phone to play games. Once he fell asleep, Elizabeth sent out numerous texts to her family. Her mother received a text message from Elizabeth saying that she was in a hole in the ground and that she could hear trucks driving by. Police were able to trace the phone number to a telephone tower near the underground bunker.
As police were hot on his trail, Filyaw found out after watching the news on a battery powered television. Initially he was infuriated with Elizabeth: "I was scared I was gonna die. He was mad," she said. This anger soon turned to fear. What if police found him? Asking Elizabeth for advice, she suggested he flee and get a head start on the police who were fast approaching. He complied and left Elizabeth alone in the bunker.
Shortly after he left, Elizabeth steadily screamed for help from inside the bunker, hoping somebody somewhere would hear her. A search party who were searching the surrounding area heard her pleas and eventually unearthed the grim paedophile's lair.
A manhunt for Filyaw was now underway. A police helicopter circled around the bunker and surrounding wooded area. As they searched, they uncovered three other hidden bunkers, all of which were dug by Filyaw. He was a survivalist who knew every single inch of the woods.3
In fact, Filyaw had a tunnel system underneath his house leading to several underground bunkers.
He was finally tracked down after a woman called police to say that Filyaw had attempted to carjack her outside a pizza restaurant at approximately 2AM on the 17th of September. Police apprehended him walking along Interstate 20 around 5 miles from his house; he was armed with a pellet gun, a taser, and a long hunting knife.
Filyaw pleaded guilty to charges of kidnapping and 10 counts of criminal sexual conduct and was sentenced to 421 years. "I have a strong belief you have forfeited your right to be a member of this society. I can think of no crimes short of murder more repulsive than these," said Judge G. Thomas Cooper as he handed down the sentence.4
Elizabeth's determination for survival was nothing short of outstanding. "I look at her all the time and think what she went through and how she did it," her father said to Today. 5 Elizabeth went on to graduate from high school and technical college. Putting her traumatic past behind her, she is determined to let her story be a lesson to others.
Footnotes: